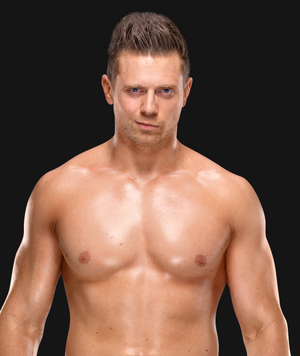 The Miz:
Height: 6'2"
Weight: 221 lbs.
From: Cleveland, Ohio
Signature Move: Skull-Crushing Finale, Figure-Four Lock
Career Highlights: WWE Champion (1x), United States Champion (1x), Intercontinental Champion (7x), Hardcore Champion (4x), WWE Tag Team Champion (3x), World Tag Team Champion (4x), King of the Ring (2012), Mixed Match Challenge (2018)
Slammy Awards: Slammy Award for Most Improved Perfomer of the Year (2016), Slammy Award for Promo of the Year (2016), Slammy Award for "Crack on the Mic" of the Year (2017)
​Bio: First introduced to TV audiences as one of the seven strangers on "The Real World: Back to New York," The Miz parlayed his reality TV fame into a legitimate WWE career.

And for those who think he's a fluke, just ask him. He'll tell you he's not … and he's right.
Miz's first taste of WWE cred came alongside John Morrison, as the duo won the WWE Tag Team Championship and the attention of WWE fans on their WWE.com web series, "The Dirt Sheet." The team was split up thanks to the 2009 WWE Draft, and many expected Miz to fade into obscurity. He proved everyone wrong, though, by winning the United States Championship, the Unified Tag Team Championship and several high-profile matches.
Then in 2009, Miz's career hit a turning point. He became the WWE Champion.
Since then, it's been a parade of one accolade after another for WWE's self-proclaimed A-lister. The main event of WrestleMania, the Intercontinental Championship, the WWE Tag Team Titles and several starring film roles later, and The Miz still had enough clout left over to snag his own talk show, "Miz TV."
Love him or hate him — OK, it's easier to hate him — there's no other Superstar like him. He's The Miz. And he's — sigh — awesome. There. We said it.