Kofi Kingston:
Height: 6'0"
Weight: 212 lbs.
From: Ghana, West Africa
Signature Move: Trouble in Paradise
Career Highlights: United States Champion (2x), Intercontinental Champion (3x), RAW Tag Team Champion (2x), SmackDown Tag Team Champion (2x), World Tag Team Champion (1x), Hardcore Champion (2x), Bragging Rights Trophy (2010)
Slammy Awards: Slammy Award for Tag Team of the Year (2015)
​Bio: The energy contained within one Kofi Kingston could power a major city for several years.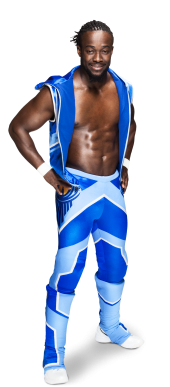 A Ghanaian grappler with a beaming smile, Kingston's boundless enthusiasm is rivaled only by his limitless athleticism, which he displays fearlessly every time he steps in the ring. Most of the people who don't like Kofi Kingston are the Superstars he faces each week — and that's only because they can rarely catch him. His dazzling aerials only belie what is truly a fierce fighter, who can curtail the smiles to kick it up in intensity if an opponent is foolish enough to set him off.
Randy Orton, for example, tested Kingston's patience in late 2009, and paid for it when Kingston defaced The Viper's customized NASCAR before targeting Orton himself, leaping off a balcony at Madison Square Garden and splintering him through a table. Kingston's determination makes him a legitimate threat, and repeated favorite, in the annual Money in the Bank Ladder Matches, even though he's yet to snag the coveted briefcase amid his rampant boom-dropping. His creativity to survive in the Royal Rumble Match — like walking on his hands, lunging onto an eliminated Superstar's back or using a chair as a pogo stick — has quickly grown into an institution at the yearly January event. 
Lest one think Kingston is all flash and no substance, however, The Dreadlocked Dynamo's championship legacy speaks for itself: Intercontinental Championships, United States Championships and WWE Tag Team Titles. What lies ahead remains to be seen, but it's unlikely to stop Kingston from shining brighter and brighter — probably because he actually keeps leaping closer and closer to the sun.