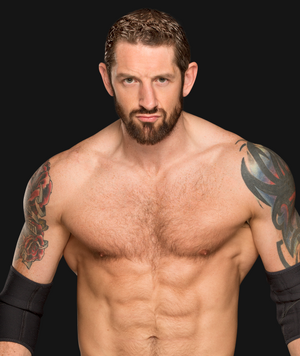 King Barrett:
Height: 6'7"
Weight: 246 lbs.
From: Manchester, England
Signature Move: Bull Hammer Elbow; Wasteland
Career Highlights: NXT (Season One), World Heavyweight Champion (2x), Intercontinental Champion (2x), Hardcore Champion (7x), Royal Rumble (2011), King of the Ring (2018)
Other Promotion(s) Career Highlights: FCW Florida Tag Team Champion (2x)
Slammy Awards: Slammy Award for Breakout Star of the Year (2010), Slammy Award for Shocker of the Year (2010)
Bio: Trained in bare-knuckle brawling on the mean streets of Preston, England, King Barrett brought strength, arrogance and cunning to the ring in equal measure. He was imbued with confidence and eloquence, character traits that propelled the cocky young Brit to the top ranks in WWE.
Months later, he joined with fellow international Superstars Rusev, Sheamus and Alberto Del Rio to form The League of Nations. With the power of the crown at his side and subjects falling at his feet, Barrett's glorious crusade toward glory was less manifest destiny than divine right itself.