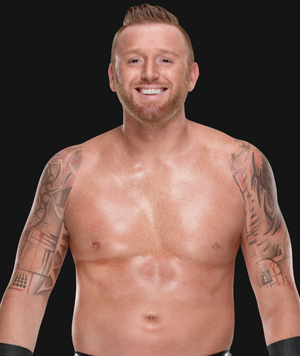 Heath Slater:
Height: 6'2"
Weight: 216 lbs.
From: Pineville, West Virginia
Career Highlights: WWE Tag Team Champion (2x), SmackDown Tag Team Champion (1x), World Tag Team Champion (1x)
Other Promotion(s) Career Highlights: FCW Florida Heavyweight Championship (1x), FCW Southern Heavyweight Championship (1x), FCW Florida Tag Team Championship (1x)
Bio: Fueled by a mouth that never stops running and arrogance as scorching as the shock of red hair on his head, Heath Slater certainly lives up to his self-imposed moniker, "The One-Man Band."
Hailing from West Virginia, Slater first exploded onto the WWE scene as a Rookie on WWE NXT's inaugural season. Right out of the gate, Slater made an impact becoming the first-ever NXT Rookie to defeat a WWE Pro in a singles match. From there, he joined The Nexus in its hostile takeover of WWE and, like all good rockers before him, refused to stay painted into a single corner.
Instead, Slater went where the music took him, baby, collaborating with the likes of 3MB and Titus O'Neil to stay a steady presence in WWE's tag team division, while also making it a point to take on any Legends that came across his path. He also helped form The Social Outcasts, a dangerous group of four Superstars setting their sights on squared circle glory. WWE Universe: Slater is still rockin' out, and all it takes is just one hit.